.
Happy New Year everyoneee!🎉
It's been quite a while since I last wrote a non-review post on this blog. The year 2018 sure goes by really fast! And now we are officially welcoming 2019!🎉 I decided to do this
End of Year Book Survey
, which I did back in 2014 (
you can read the 2014 edition here
) because I think it will be a fun way to sum up my reading in 2018. This survey consists of numerous questions about books that will be fun to answer.
If you want to join in, you can copy-paste the questions from my blog and post your own!
If you're doing this survey, please share the links in the comments below so I can check out some of your favorite books from 2018 😊. Okay, now let's start answering the questions! (*
You can also click on the book titles I mentioned to see my review on it 😉
)
Number Of Books You Read: 41
Number of Re-Reads: 0
Genre You Read The Most From: Non-Fiction, Self-Help, Spirituality, Contemporary
1. Best Book(s) You Read In 2018?
• Little Fires Everywhere by Celeste Ng: I love Celeste Ng's writing so much in this book. It's so gripping and I'm so emotionally invested in the story!
• Rising Strong by Brené Brown: This was the first book that introduced me to Brené Brown, and it is so amazing! Learned so much from it, but unfortunately I still haven't written a review yet because it's THAT good 😂.
• Hope in the Dark by Craig Groeschel: A book that came at a perfect time in my life as I'm going through a struggle. Very encouraging and profoundly written.
• I Thought It Was Just Me (But It Isn't) by Brené Brown: The second book by Brené Brown and it's just as amazing even though it's one of her older books. Made me understand so much better about shame and how to deal with it.
2. Book(s) You Were Excited About & Thought You Were Going To Love More But Didn't?
Years After by Orizuka & Every Breath by Nicholas Sparks. I was really excited because the two of them are my favorite authors. I've read almost all of their books but their newest release doesn't seem to impress me that much so I was quite underwhelmed.
3. Most surprising (in a good way or bad way) book you read in 2018?

Long Way Down by Jason Reynolds

. This is actually the first time I've ever read a book that's written in verse. It definitely surprised me

—in a good way, because I really enjoyed it. It's really thought-provoking too.
7. Best book from a genre you don't typically read/was out of your comfort zone?
8. Most action-packed/thrilling/unputdownable book(s) of the year?

Little Fires Everywhere by Celeste Ng.

I seriously could not put this book down because it's just so intense! Every single page just keeps me wanting more and more. I was dying to know how the story's going to end 😆.
21. Best Book You Read In 2018 That You Read Based SOLELY On A Recommendation From Somebody Else/Peer Pressure:
I don't think there's any because I'm reading absolutely anything that I want last year 😂.
22. Newest fictional crush from a book you read in 2018?
Maybe Linus from Finding Audrey by Sophie Kinsella, because he's sweet and funny.
23. Best 2018 debut you read?
Didn't read any debut author that impressed me last year.
24. Best Worldbuilding/Most Vivid Setting You Read This Year?
Unfortunately none.
25. Book That Put A Smile On Your Face/Was The Most FUN To Read?
Finding Audrey by Sophie Kinsella.
26. Book That Made You Cry Or Nearly Cry in 2018?
27. Hidden Gem Of The Year?

Didn't find any 😕.
29. Most Unique Book You Read In 2014?
30. Book That Made You The Most Mad (doesn't necessarily mean you didn't like it)?
1. New favorite book blog you discovered in 2018?

Last year I discovered Sintia Astarina (

https://www.sintiaastarina.com/

) through Instagram, because she has the most aesthetically pleasing content. And then I visited her blog and fell absolutely in love with it. 💖
3. Best discussion/non-review post you had on your blog? Anything But Books Tag

. Because in this post I was able to talk about some of my favorite things other than books.
4. Best event that you participated in (author signings, festivals, virtual events, memes, etc.)?
Didn't really participated in any event last year.
5. Best moment of bookish/blogging life in 2018?
Was able to get back to reading and blogging, finally! Really glad I wrote review for almost all the books that I read in 2018! 😆
7. Post You Wished Got A Little More Love?
Don't have any particular post that came to mind 🤔.
8. Best bookish discover (book related sites, book stores, etc.)?
Nothing new 🤔.
9. Did you complete any reading challenges or goals that you had set for yourself at the beginning of this year?
Well, yes and no. 😂 Because at the start of 2018 I challenged myself to read 50, but I think halfway through the year I don't think I would be able to do it so I downgraded to only 40 books. I ended up reading 41 books, so I guess I kinda achieved it (?). 🤔😂
1. One Book You Didn't Get To In 2018 But Will Be Your Number 1 Priority in 2019?
The Road Back to You by Ian Morgan Cron, Suzanne Stabile. My good friend introduced me to the world of Enneagram last year, so I really wanted to read a book about it. Unfortunately I didn't get to it in 2018, so hopefully I'll be able to read this one in 2019.
2. Book(s) You Are Most Anticipating For 2019 (non-debut)?
On the Come Up by Angie Thomas & God of Covenant by Jen Wilkin. I discovered these authors last year and really liked their writing style a lot. So I'm really looking forward to their 2019 releases.
3. 2019 Debut You Are Most Anticipating?
Descendant of the Crane by Joan He & Opposite of Always by Justin A. Reynolds. I was browsing through the 2019 debuts list, and these two really caught my attention. Hopefully they'll be as amazing as their covers 😂. The second book received praise from Becky Albertalli and Angie Thomas, though. And I love those two authors. So I have high hopes.
4. Series Ending/A Sequel You Are Most Anticipating in 2019?
The Trials of Apollo: The Tyrant's Tomb by Rick Riordan. Always waiting for a new Rick Riordan book every single year. Can't wait until the series end so I can start reading them all.
5. One Thing You Hope To Accomplish Or Do In Your Reading/Blogging Life In 2019?
Read more books, and keep up with writing reviews.
6. A 2019 Release You've Already Read & Recommend To Everyone:
Haven't read any yet.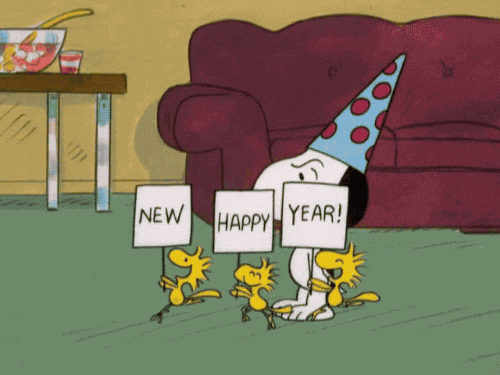 Phew, I'm finally done with the book survey! I know my answers didn't have that many variety since I've only read 41 books last year, but I hope it's still interesting to read because I had fun writing this post 😊. I think this survey is a really good way to look back and reflect on my reading journey this past year. I realized I read a lot of non-fiction books lately, so I really want to get back and read more fantasy book series in the upcoming year. Like I said at the beginning of this post, feel free to share your answers to this survey because I'd like to know what amazing books you've read in 2018. Okay then, see you in the next post! Happy New Year!


by.stefaniesugia♥ .