.
BOOK review
Started on: 3 July 2019
Finished on: 17 July 2019
Title:Where the Crawdads Sing
Author: Delia Owens
Publisher: G.P Putnam's Sons
Pages: 370 pages / 379 pages (e-book)
Year of Publication: 2018
Price: Rp 392,000 (
https://www.periplus.com/
)
Rating: 4.5/5
------------------------------------------------------------------------------------------------------------------------------------------------------------------------
"There are some who can live without wild things, and some who cannot."
At the age of six,
Kya
watched her mother abandon her and her siblings; leaving them with their abusive father. As time goes by, her mother never returned and Kya watched her older siblings leaving as well, due to their father's drinking and physical abuse. Throughout the years, Kya only went to school for a day and stopped going because everyone at school made fun of her. Without money and family, Kya learned to rely on herself, alone in the marsh—finding ways to make money and food to eat. She grows up with the prejudice of the townspeople of Barkley Cove who called her "The Marsh Girl". Everything changed when two young men came into her life. After living by herself for so long, Kya craved companionship but on the other hand, she also fears abandonment that she's experienced at a very young age.
"She knew the years of isolation had altered her behavior until she was different from others, but it wasn't her fault she'd been alone. Most of what she knew, she'd learned from the wild. Nature had nurtured, tutored, and protected her when no one else would."
I decided to pick this book up the other day because it kept popping up on my Goodreads page 😂. It has a lot of positive reviews and the average rating was at 4.5, which finally convinced me to read it myself. I went into it without any expectation; first, because I have no idea what the story is going to be about, and secondly, I've never read anything by Delia Owens before.
And now that I've finished the book, I have to agree with the majority of people who enjoyed this book, because I did too! The way the author builds the story is really immersive, and I've grown attached to the characters involved.
It has an element of mystery which I absolutely love; it managed to keep me on the edge of my seat the whole time! Every single detail of the story added something more to the atmosphere and character building. Definitely did not expect to enjoy this book as much as I did. It was a pleasant surprise 😊.
"The marsh did not confine them but defined them and, like any sacred ground, kept their secrets deep."
The story is written with dual timelines, alternating between the past and the present day. It begins in the 1950s, introducing Kya's character⁠—her past and her family background. We watched as she got older, going through life by herself; relying on her own ability and nature. In the present day, we found out a man called Chase Andrews is dead. And as the years rolled by, we'll see how Kya and event of Chase Andrews' death starts to intertwine with one another. The story slowly unfolds the mystery behind Chase Andrews' death. And I totally didn't expect the ending! To be honest, throughout the whole book I believed one thing and assumed it was the truth. Until the last few pages suddenly turned it all around and I'm completely shook. 😱 The way the author revealed it was incredible as well. Totally gave me chills as the story came to an end. I absolutely love plot twists like these. This GIF below describes my expression perfectly 😂: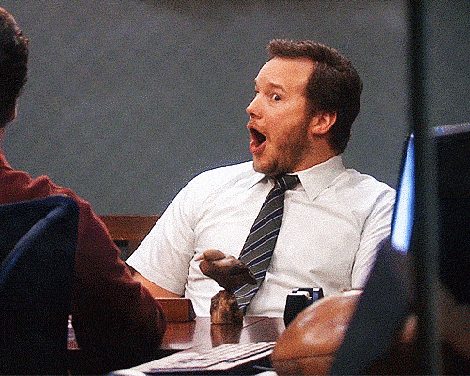 Anyways, let's not spoil anything even further 😂. Now I'm going to talk about the characters. First of all,
Kya
is an incredible character. She definitely left a deep impression because I've never read a character like her before. She lives alone in a shack on the marsh; she also learns how to read, write, and paint without receiving any proper education. Kya is a really smart and intelligent woman who likes to observe her surroundings. And because of her past, Kya grew up to be a really innocent and experienced a lot of hurt because of that. Another prominent character in this book is
Tate
, the boy who taught her how to read. Even though Tate did something that was pretty disappointing, I was able to sympathize with his decision and was grateful when he ended up regretting what he did. Throughout the years, Tate has been really helpful to Kya and has definitely changed her life. He's such a sweet and loving person; I'm so touched by how much he cares about Kya. Aside from Tate, Kya also befriends
Jumpin'
and his wife,
Mabel
, who's always been the sweetest and kindest
to Kya. It truly warms my heart seeing their interaction; because Jumpin' and Mabel seems more like Kya's parents than her real parents are.
"Let's face it, a lot of times love doesn't work out. Yet even when it fails, it connects you to others and, in the end, that is all you have, the connections. Look at us; you and I have each other now, and just think, if I have kids and you have kids, well, that's a whole new string of connections. And on it goes."
Overall, this was an amazing work by Delia Owens and I would definitely pick up the next book that she'll publish in the future.
This book had a good dose of mystery that keeps me intrigued until the end; the romance and friendship feels natural and believable too. I especially love how Delia describes the setting that has definitely set an atmosphere for the whole story. I think this book would be a great book to read while enjoying the beauty of nature. I was completely sucked into the story and felt as if I've known Kya since her childhood through her adult years. This was a great book and I'm glad I decided to read it 😊.
"Needing people ended in hurt."
by.stefaniesugia♥ .