.
BOOK review
Started on: 7 September 2018
Finished on: 10 September 2018

Title: Long Way Down
Author: Jason Reynolds
Publisher: Atheneum
Pages: 306 pages / 321 pages (e-book)
Year of Publication: 2017
Price: Rp 228,000 (
http://periplus.com/
)
Rating: 4/5 ------------------------------------------------------------------------------------------------------------------------------------------------------------------------
"but if blood inside you is on the inside of someone else,
you never want to see it on the outside of them."
Fifteen-year old
Will
just lost his brother,
Shawn
, who was shot and murdered. But despite his grief, Will reminded himself of the rules. No crying; no snitching; and revenge. And that is exactly what he's going to do as he took a gun from Shawn's drawer and shove it in the back waistband of his jeans. As he entered the elevator on the seventh floor to go to the lobby, Will experienced something strange. In the span of one minute, the elevator stopped at each floor and someone comes in to join him. However, all of these people that Will encountered, are supposed to be dead.
"Buck pressed his finger to my chest like he was pushing an elevator button. The L button. But you ain't got it in you, Will, he said, cocky. Your brother did, but you

—

you don't."
"Might as well relax, Buck said. It's a long way down."
Long Way Down
is a fairly short book which you can finish in a short time but it packs a punch. This is also my first time reading a book written in verse. I unexpectedly really enjoyed the way the story is told through short sentences that felt a little bit like a poem. Despite being written in short sentences and simple words, the story is very compelling
—
especially because it talks about an important issue, which is gun violence. Even though it's not necessarily relevant in my country, I think it is highly relevant in some other countries where a lot of shootings happened and it has taken the lives of many innocent people.
"AT THIS POINT you probably already don't believe me or think I'm nuts. And maybe I am.
But I swear this is all true. Swear."
"CONFESSED that I was scared, that I needed to know I was doing the right thing."
The book is written from the first point of view of
Will
, the main character whose brother got shot and died. The pacing of this book really kept me on the edge of my seat. I am always intrigued very time the elevator stopped at the next floor and someone came to join Will on his journey to the lobby from the seventh floor. At first I was really confused because I didn't know the connection between all these people. But towards the end, I finally was able to make sense of it all. Every single person that entered the elevator had some kind of connection with Will. I do not want to spoil too much by mentioning them all in this review, but it really got me emotional.
I will tell you that the story ends with a huge cliffhanger.
I was shocked that it ended there. 😱 I am left with so many questions and wanting for more. But I guess the author gives us the freedom to choose what's going to happen next and leave it to our own imagination. I seriously have a love-and-hate relationship with cliffhangers 😂.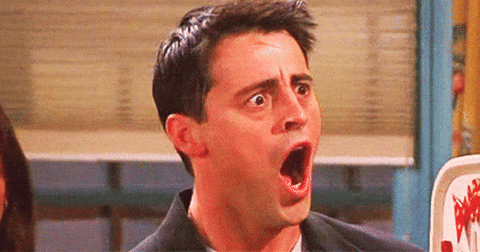 (this is what my face looked like when I finished the book 😂)
This book was able to keep me intrigued from start to finish. It was easy to read and didn't take long to finish. I did pick this book up because it's fairly short, and I did not expect it to be this good. The way this book raises concern about gun violence is a little bit similar to The Hate U Give (another book that I really love and recommend; it really affected me emotionally as well). I think I will try reading other books by Jason Reynolds in the future because I thoroughly enjoyed his writing in this one 😊.
by.stefaniesugia♥ .