.
BOOK review
Started on: 26 May 2019
Finished on: 2 June 2019
Title: The Young Elites (The Young Elites, #1)
Author: Marie Lu
Publisher: Putnam Books

Rating: 4/5
------------------------------------------------------------------------------------------------------------------------------------------------------------------------
"Fear creates the strongest illusions. Everyone has darkness inside them, however hidden."
A decade ago, a deadly illness swept throughout the nation. Most of the infected perished, while many of the children who survived were left with strange markings. These survivors,
malfettos
, are regarded as abomination, a disgrace to their families. And that includes
Adelina Amouteru
. Her father despised her because of her scars and markings, and has treated her badly over the years. However, some of the fever's survivors possess more than just scars—they are believed to have mysterious and powerful gifts, and though their identities remain secret, they have come to be called the Young Elites.
"It is pointless to believe what you see, if you only see what you believe."
I read Marie Lu's debut novel, the
Legend
trilogy, back in 2015
⁠—and I can safely say that it was one of my favorite dystopian series. I really enjoyed her writing style back then, and I think it's one of the few series that had a great ending. So when I was contemplating on what to read next, I spotted The Young Elites series on my bookshelves. It's been sitting there for quite some time now, thus I decided to pick it up
⁠—hoping that it will be as good as the Legend trilogy. Now that I've finished the first book, I'm still unsure as to how I feel about it. I still enjoyed Marie Lu's writing, it's also action-packed and intense, but unfortunately I'm not that invested in the characters and story line (that's why I'm giving it a 4/5 rating) 🤔. However, I'm not going to jump to any conclusion just yet, because I also felt the same way about Legend at first. That series gradually gets better as it continues to the second and third book. So I'm hoping it'll be the same for this series. *fingers crossed*
"Be true to yourself. But that's something everyone says and no one means. No one wants you to be yourself. They want you to be the version of yourself that they like."
"I am tired of being used, hurt, and cast aside. It is my turn to use. My turn to hurt."
The book is written in multiple perspectives of different characters:
Adelina Amouteru
,
Enzo Valenciano
,
Teren Santoro
, and
Raffaele Laurent Bessette
; but only Adelina's is written in first person POV, while the others are written in third person. The story is set in Kenettra, a country that has suffered through a deadly illness that left markings on its' survivors. It's a world where these survivors, called
malfettos
, are deemed as abomination and are despised throughout the country. The plot focuses on Adelina, who managed to run away from her abusive father but was then captured by the Inquisition Axis, an army that hunts down
malfettos
who brings harm to other people. But then Adelina was discovered by a group of
malfettos
who call themselves the Dagger Society that consists of several Young Elites. Each of them has unique and different gifts of their own. And their mission is to overthrow the throne, so that Enzo, the rightful heir, will be able to lead the country and bring security to all
malfettos
. Unfortunately, things gets complicated when Adelina is unable to control her power and she's also put in a tight spot when the Inquisition threaten to harm her sister if she's unwilling to cooperate.
I think that really creates an interesting plot because there's a lot at stake and Adelina is forced to choose. Either one of her decisions comes with a risk. But I definitely did not see the plot twist coming towards the end of this book. I won't spoil anything here, but the GIF below depicts my reaction when I was reading 😱. It was very sudden and unexpected, so I was utterly shocked. To be honest, I was a bit sad as well because it involves a character that I really liked. I think I'll be able to mention it in my review for the second book. I'm hoping for some miracle that will turn things around 😂.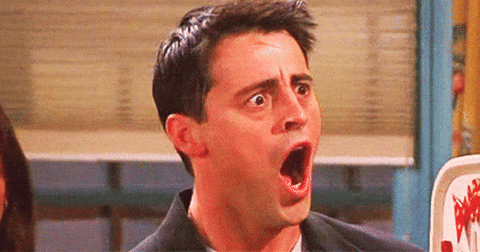 As for the characters,
Adelina Amouteru
is a very interesting one because she has a dark side to her; almost like an anti-hero character in some ways. It's a pretty realistic character arc considering she has quite a painful past involving her abusive father, which creates a deep resentment and darkness in her soul. She's definitely not the typical heroine that you see in most YA books, because Adelina had a lot of personal issues that soon became her weakness that she has to work through. Since her side of the story is written in first person, we really get to see what's going on inside her mind
—and it's not pretty. But somehow, throughout this first book, I didn't find myself liking Adelina very much. I admit that she's an interesting character but somehow I'm not completely hooked just yet. If I have to choose a favorite character in this book, it would be Enzo Valenciano, the crown prince. First of all, I think Enzo's power is very cool. And he's an assassin so that makes him 10 times cooler
😂. He's full of charisma and definitely has a trait of a leader. Everyone in the group respects him and there are moments that shows how Enzo truly cares about his people. On the other hand, Teren Santoro, the antagonist of the story, is also quite interesting because his power made him invincible and his character has a pretty dark past too. I can't wait to see what is he going to do in the next book. And I'm definitely curious to see if anyone will be able to defeat him.
"To love is to be afraid. You are frightened, deathly terrified, that something will happen to those you love. Think of the possibilities. Does your heart clench with each thought? That, my friend, is love. And love enslaves us all, for you cannot have love without fear."
I thoroughly enjoyed this book even though it didn't blew my mind just yet, but I still have high hopes for it. The story is action-packed, intense, full of intrigue, and dark. There's a little bit of romance but it's definitely not the main part of the story. I think it focuses a lot more on the character building and how each of them strive to accomplish their own personal agenda. The plot has managed to keep me interested so far because I'm always curious as to what's going to happen next. I'll be reading the second book right after this, and hopefully it will be even better than this one 😊.
"I hereby pledge to serve the Dagger Society, to strike fear into the hearts of those who rule Kenettra, to take by death what belong to us, and to make the power of our Elites known to every man, woman, and child. Should I break my vow, let the dagger take from me what I took from the dagger."
by.stefaniesugia♥ .